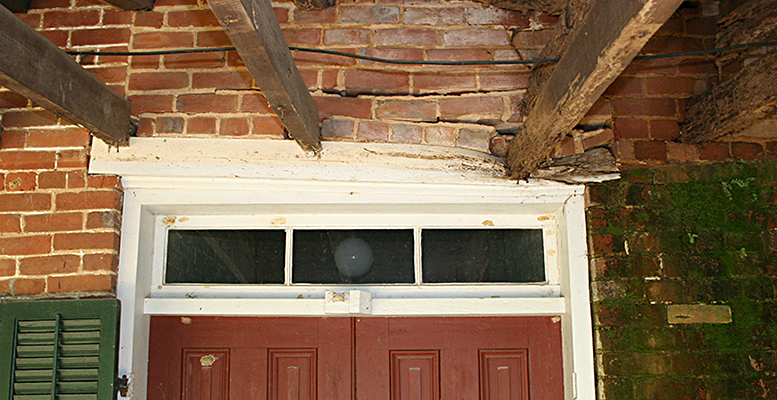 Are we that crazy?
Bonnie and I had many concerns about taking on this project. Can we afford this? Do we have the time? Where can we find carpenters, masons, and other tradesmen who are capable? Will they be willing to do it the old way, as will be required in many cases for a true restoration? Does anyone know enough about the antebellum houses of this area to help guide us when working blueprints are needed?
In the long run, will anyone really care? There are many admirers and wellwishers, but I have come to the opinion that very few people in our area really embrace its history. The sale of the Hunt-Phelan house and more importantly the loss of its immensely important contents several years after we started this project proves the point. A hundred years from now, will this house have been bulldozed and its property chopped into zero lot lines?
Nevertheless, we pushed on.
We obtained a detailed inspection before even considering a serious offer, and the results made us want to cry. Some problems were obvious to the casual observer, like missing bricks and gaping holes in the soffit. Climbing over, under, and through the bowels of this old house revealed an overwhelming number of additional problems that ranged from trivial items that would be easy to fix to severe faults such as wiring issues that were immediate fire hazards and foundation problems so serious that several rooms were in danger of falling in. Finally, virtually all exterior woodwork had been covered up with vinyl and aluminum siding. What would be under there?
But from the first visit, we loved the place despite its many flaws. From the understanding that this house was crying for a sympathetic restoration to the peace that set in when we walked the grounds, we knew it was our destiny.
So Bonnie and I sat down and came up with a set of priorities, lest this place destroy us financially and mentally:
1. First, we must see to our kids' needs. In our area, private school would be mandatory and expensive. And then there would be college.
2. Obtain a detailed set of as-built architectural drawings to understand where we stand and where we need to go.
3. A well-equipped workshop will be needed. I can do many things by myself or with a little help. Projects requiring professionals will be greatly aided with access to tools.
4. Pay for the place, at an accelerated pace if possible.
5. Get to really know the house and save it. Parts were literally falling down.
6. Finally, undertake a systematic restoration.
This was going to take many years.
Chelius Carter drew up a complete set of plans showing the house as we bought it. Here is the first floor plan for the three major buildings. The kitchen was originally a separate cook house, but was attached to the main buildings by enclosing the back (south)porch by Mr. Perkins.
We hope to maintain the integrity of the original building as much as possible, but will make major changes to the modern construction done by recent owners. Theirs was a practical plan for a business. It was run as a bed-and-breakfast inn. Weddings and dinner parties were also hosted there.
Our plans are for this to be a private residence once again, so we will completely reconfigure the portion which had been constructed as a rustic, modern restaurant-style dining area.
We do like the concept of bathrooms within the house, and will try coming up with something that is reasonably aesthetic.
The privy is still out back for those who prefer a more authentic experience.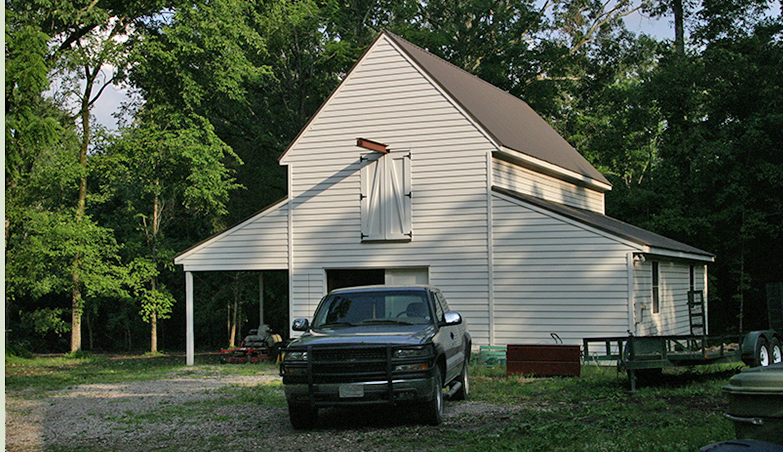 Workshop
Shortly after moving in, I drew up plans for the shop. It seemed overly large at first, but is now filled with equipment. And we use almost every tool in there on a regular basis. The second floor and attic provide much-needed storage space.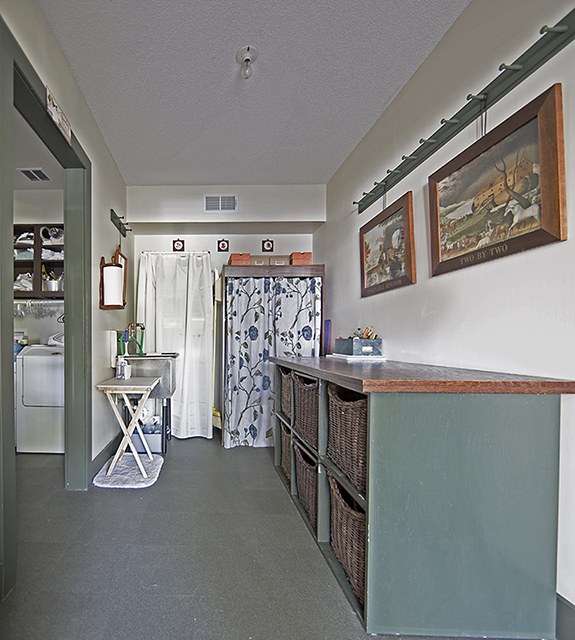 We also added a laundry room and central HVAC to the guest house the first year. I made the laundry basket organizer/folding table.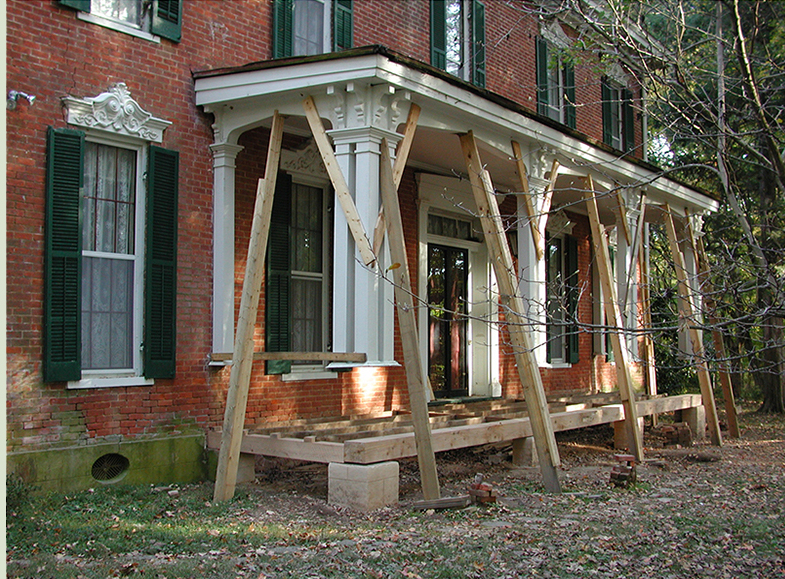 West gallery phase 1
The exterior of the house was in very poor shape. So we started taking on projects one at a time.
The front porch was falling apart. This was our first true restoration project. Chelius Carter drew up the plans and suggested we try Charles Hill as the contractor. James Carraway did the heavy timber work.
The porch was braced and rebuilt from the foundation up. Piers were reconstructed and stuccoed to match the originals.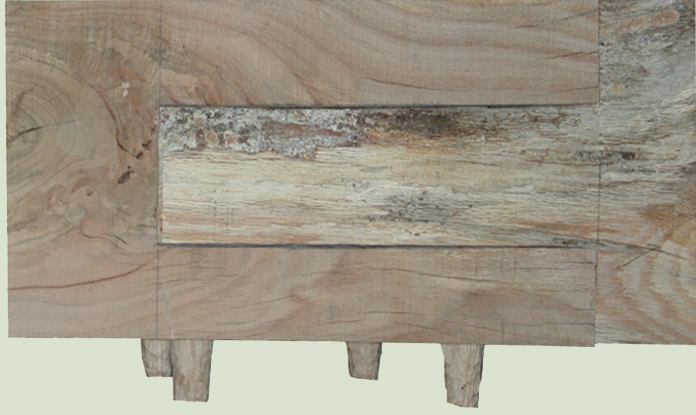 A new 10" x 14" x 38' long front beam was fashioned from two pieces, mortise and tenoned and wood-pegged. James Carraway is a true craftsman. He did this with hand tools and an electric drill.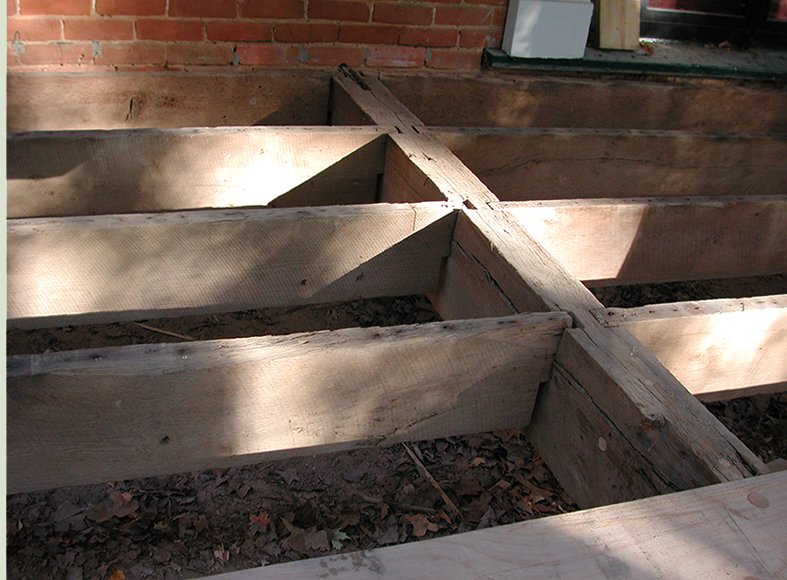 Typical heavy-timber construction. The ends of joists extend into mortises in the beams.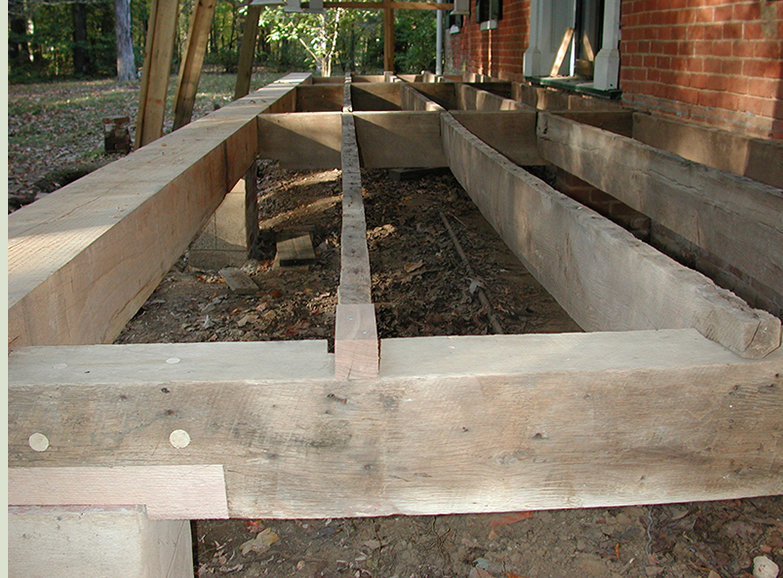 We were able to save most of the joists and one of the side beams with repairs.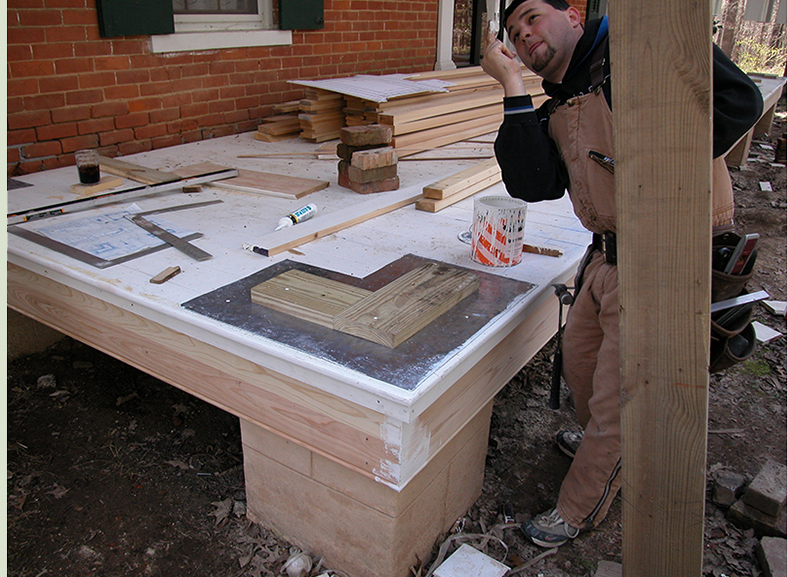 The foundation is complete, a new floor is down, and column bases start with protective lead sheets.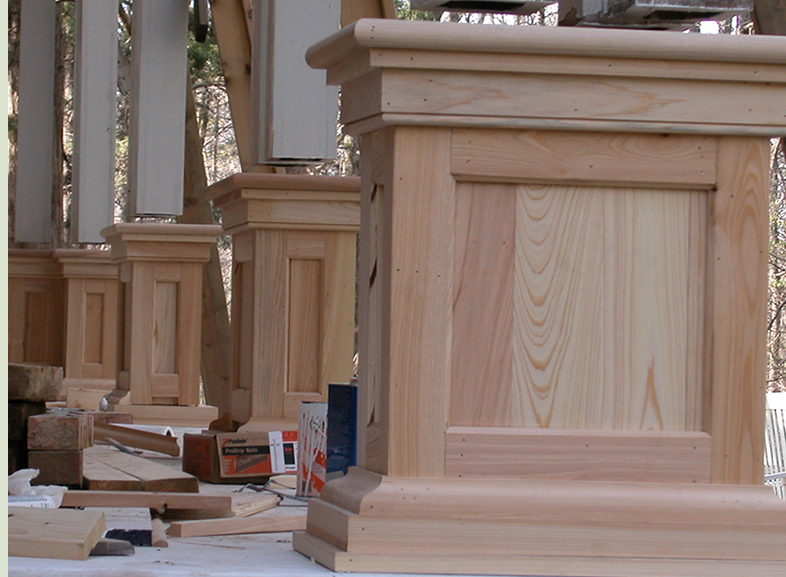 New column bases. We used cypress for everything on this project.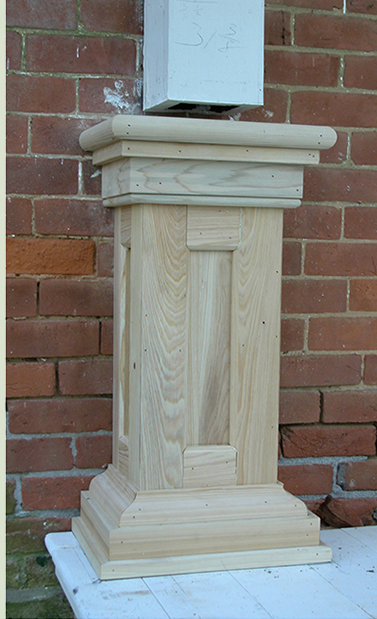 There was paint residue on the bricks, telling us the proper molding profile. The prior owner had used off-the-shelf modern molding, but we wanted the original look.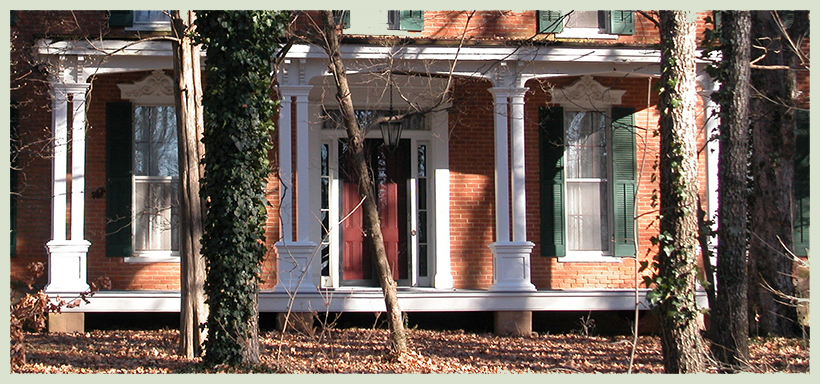 The north gallery with new foundation. Wooden steps would follow. A few years later, we built an upper ballustrade based on ghost imprints we found on the bricks above the roof of this porch. The upper part had been missing many years. None of the Nuckolls family remember it.

Our first major problem with a contractor
The builder primed everything and took off. Within days, before the painter came, all of the miter joints on the column bases started opening up. Most were gaping around 1/4", and some were significantly worse.
I called. Charles came by, took a look, and said he would come back to fix it. He failed to show up. I called again. He promised but didn't return. I called again. This time, he did not answer and did not return any followup calls.
It was clear that this was my problem now.
So I epoxied stips of wood in place and recoped and sanded every corner. Additional Abatron finally filled the gaps satisfactorily.
Needless to say, that contractor will not get any more calls or recommendations from me.
And this was my first harsh lesson to learn in dealing with present-day cypress. It is largely sap wood with wide growth rings that tend to delaminate, is not dimensionally stable in a humid environment, and does not have the rot resistance of the old-growth lumber.
"Water, water, every where,
And all the boards did shrink"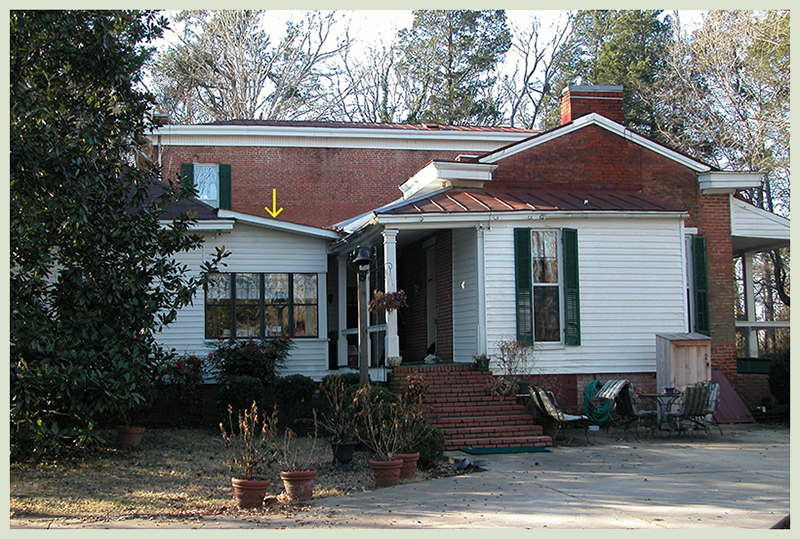 Water is the enemy.
Before buying this place, we probably should have spent a rainy day here. Water was coming in everywhere. The basement flooded with every major rain. The brick foundation was crumbling. Major issues needed to be addressed quickly.
The first of these was obvious.
The cookhouse was originally freestanding. In order to enter it from the house, there was an uncovered wooden bridge from one porch to the other. I cannot imagine walking outside to the kitchen in subfreezing or stormy weather in my underwear.
Mr. and Mrs. Perkins, the previous owners, had a great idea: connect the cookhouse to the main house and at the same time enclose the western three-fourths of the rear (south) gallery. This would allow air-conditioned space that could also be used as a dining room for their business. They ran a bed-and-breakfast and hosted other events such as dinner parties and weddings.
The devil is in the details, though. Their solution used a shed roof, indicated by the yellow arrow.
This design resulted in converging roof lines which funneled water to the foundation and ultimately into the basement. They also brought the newly-created room out flush with the cookhouse and installed aluminum windows. None of this looked right or worked well. The porch quickly rotted out.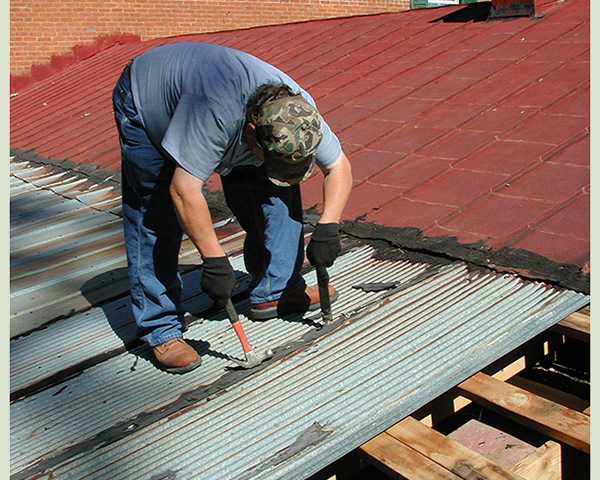 The previous owners chose corrugated "shack" galvanized material to roof their new structure, simply nailed down over widely-spaced skip decking. Tar was liberally applied. Of course, it cracked and leaked everywhere. When it rained, we were under a sprinkler head. Note no insulation in the roof. Jeffrey Kee is pulling the roof off.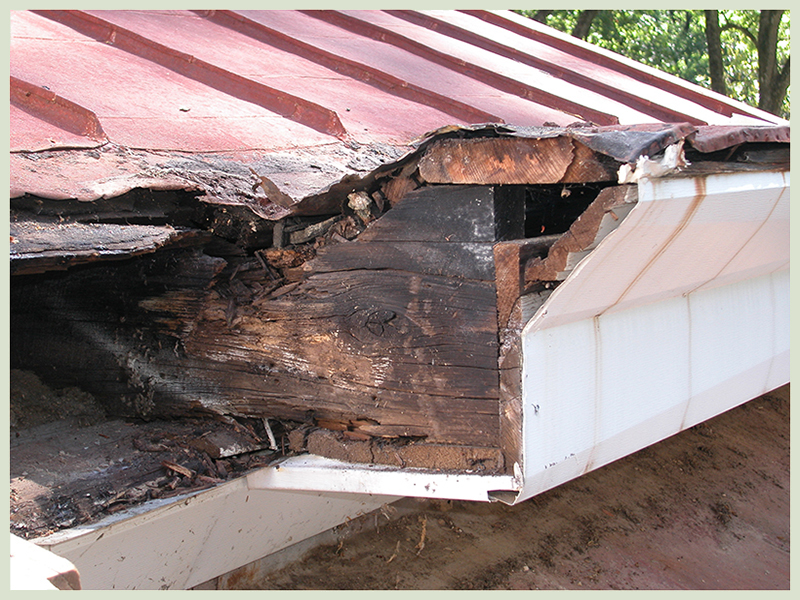 This is what happens over time when a leaky gutter is dealt with by pouring tar over the holes.
I suspect much of the rot was very old. But covering everything in vinyl siding to hide problems and avoid painting not only made the house ugly, it held moisture in and accelerated the decay.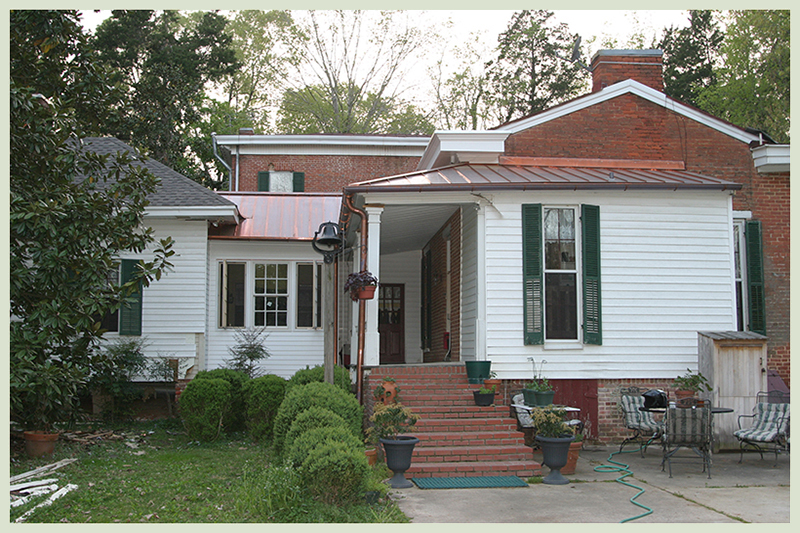 Our new room set back from kitchen, with gabled copper roof throwing water away from the house, and restored box cornice. The new double-sash center window and casements on the sides look much better than the aluminum ones they replaced. Chelius Carter drew up the plans and John Heard headed up the construction.
A few years later, we overhauled the porch and interior of this room. Pictures of that project will be shown in their place on the time scale.