Case Furniture
Highboy from the Dunlap workshop, New Hampshire, 1780-1800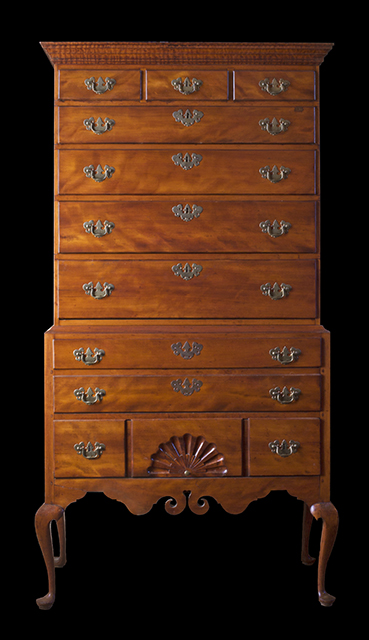 Purchased from Philip Bradley. Primary woods are flame birch and tiger maple. This chest is almost identical to those signed by Joel Joslyn, who worked in the Samuel Dunlap shop from 1793-7. The cornice, spoon-shaped shell carving, scrollwork on the apron, large double drawer on the stand, and carcass construction are typical Dunlap.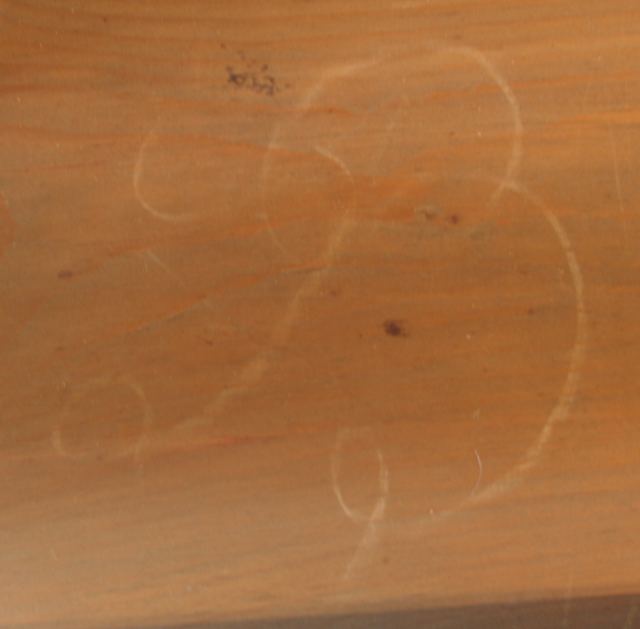 Chalk inscriptions were common on Dunlap pieces. We have not been able to figure who wrote this one. It looks like an uppercase "B" to me. Any help will be greatly appreciated.
There are at least two chests that I am aware of that are signed by Joel Joslyn. One is owned by the New Hampshire Historical Society and (as of May 2013) the other is owned by Gary F. Yeaton Antiques.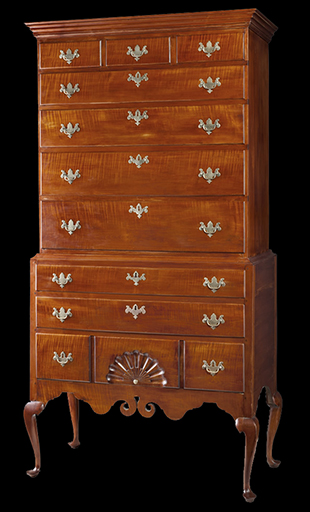 Gary Yeaton Antiques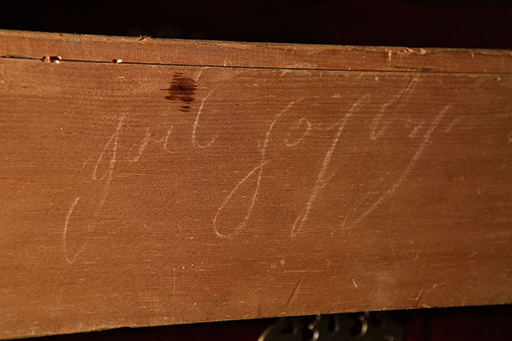 Gary Yeaton Antiques
Miniature chest, New England, 1690-1700.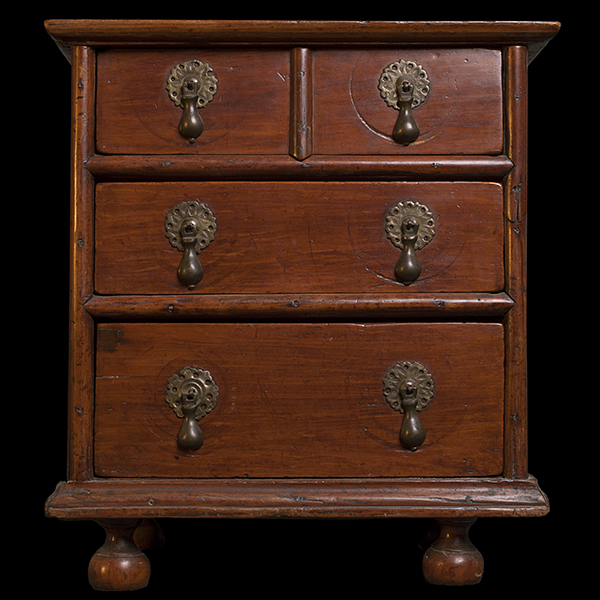 Chest, New England, 1690-1700. 16" tall, 14 3/8" wide at the top, and 10" deep. By microanalysis, the primary wood is Atlantic white cypress, native to the eastern coast of North America. From the Mabel Brady Garvan collection, most of which was donated to the Yale University Art Gallery. A few pieces were kept by her children. We bought this small William & Mary chest and the Bible box privately from the family via Leigh Keno.
This chest is pictured in two of Wallace Nutting's books. In Furniture of the Pilgrim Century, published in 1921, the chest is shown on page 70 along with the following description: "A MINIATURE Chest of Drawers. Photograph furnished by Mr. H. V. Weil, who owned the piece. The handles, which of course are of the usual size for a large chest of drawers, display very quaintly the comparatively small size of the drawers. It is such pieces as these, so rare, so appealing, that make the quest of antique furniture what it is. Date: 1690-1700." In Nutting's iconic 1928 book Furniture Treasury, there is a photo and caption: "(plate) 233. Miniature, Ball Foot, 1700. Single-Arch Mold. H. V. Weil."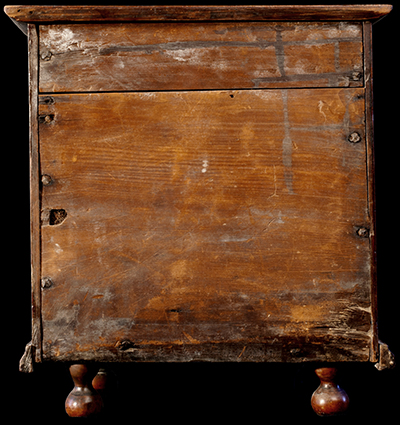 Back detail.
Bowfront Chest, New England, 1800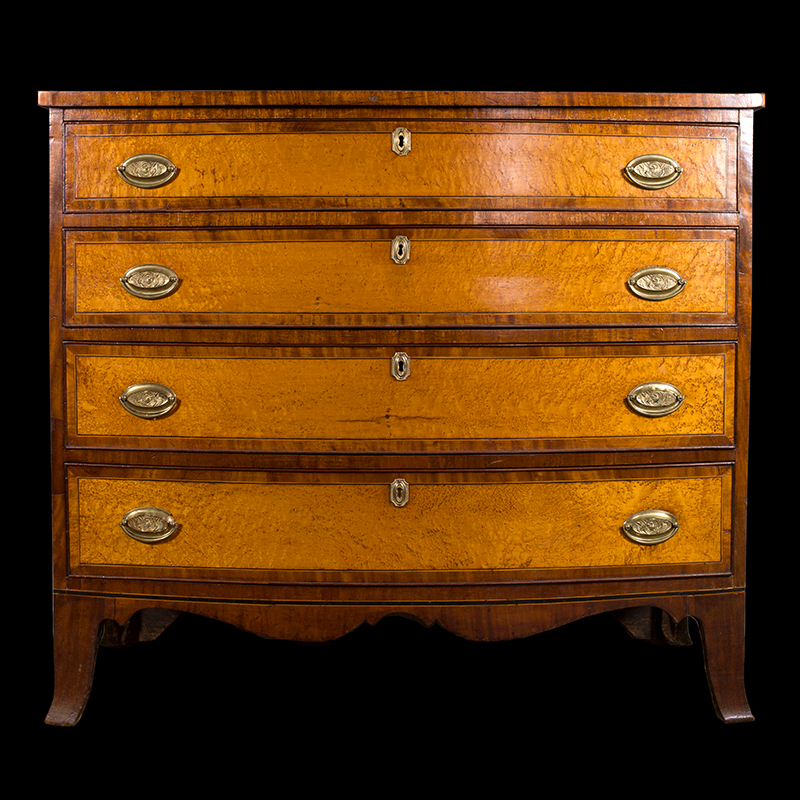 Purchased from Peter & Jean Richards. Mahogany and birdseye maple. This chest has very nice period brasses. Each has a Federal eagle in the center. They are not original to the chest, but the posts are in the original holes.
Chest labeled by maker, Maine, 1810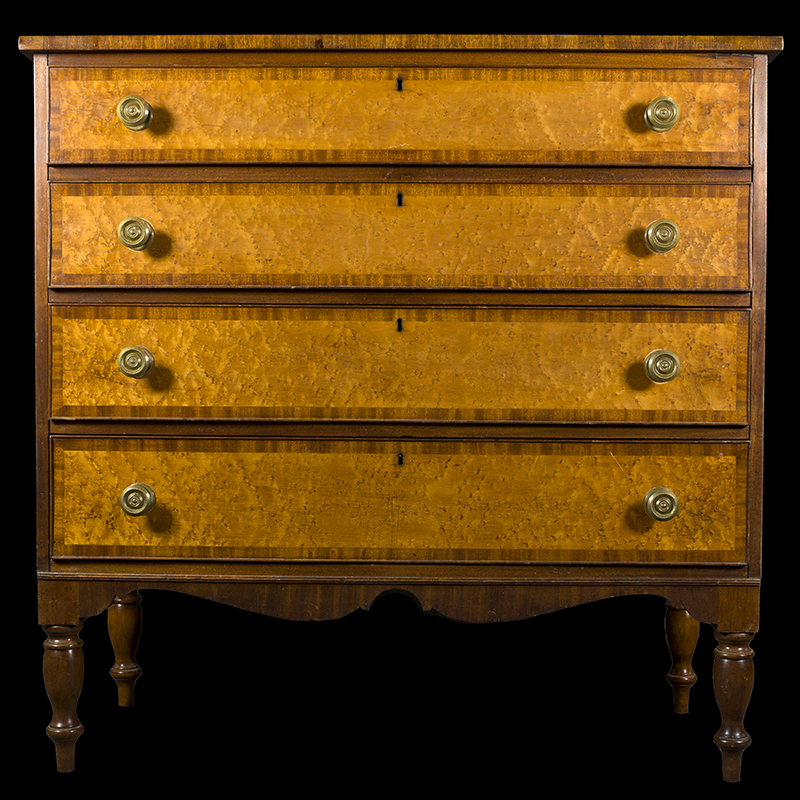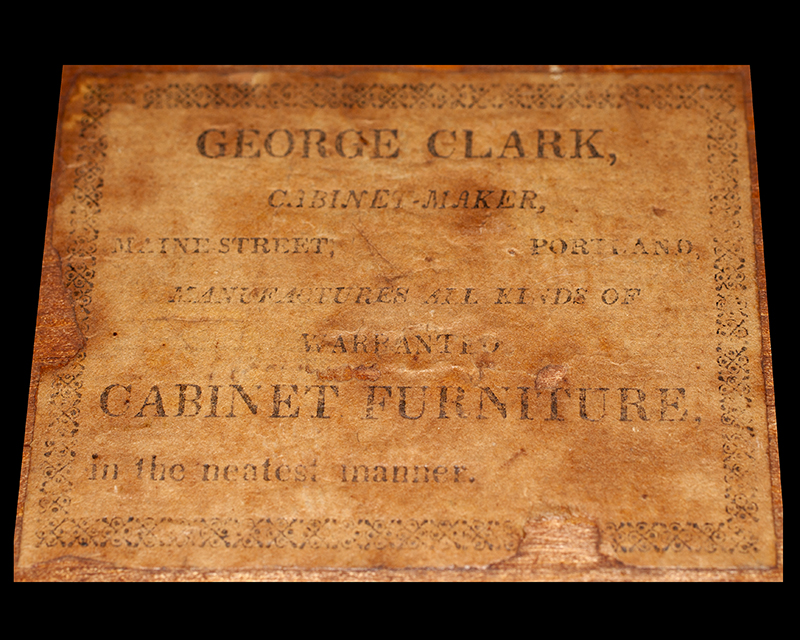 This label is affixed to the inside of the top drawer bottom.
Chest, Pennsylvania, 3rd quarter 18th century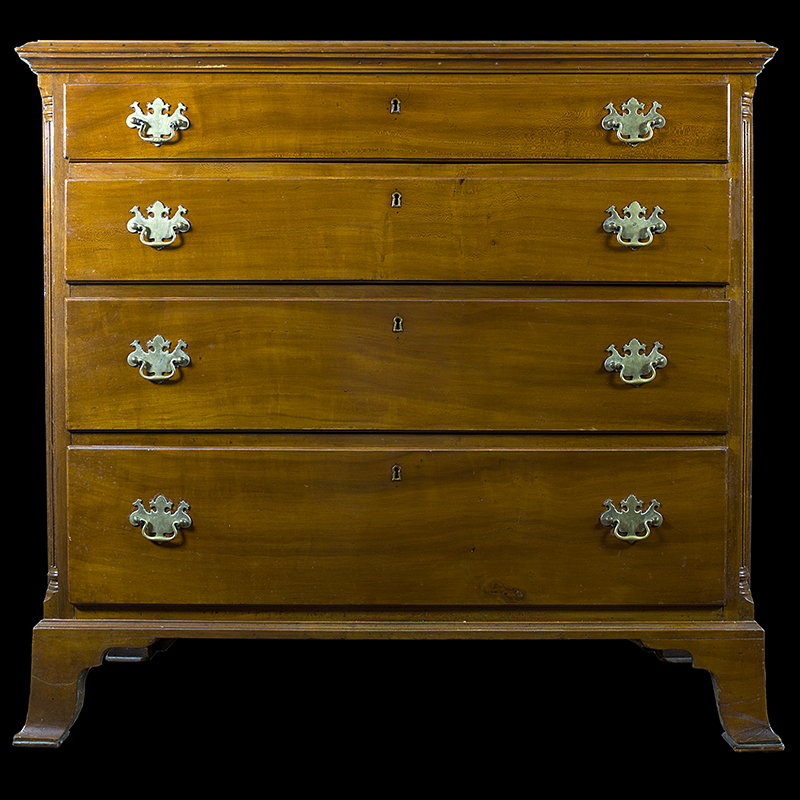 Cherry primary, tulip poplar secondary.
William & Mary "Oystered" walnut chest, England, 1700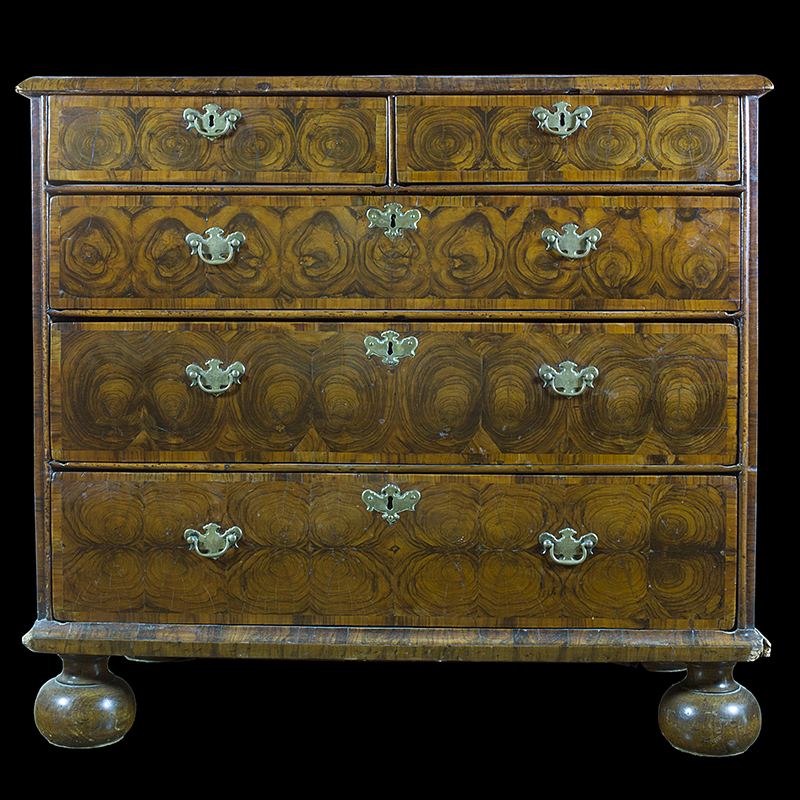 Inlaid top, typical of pieces from this period. Purchased from David Pettifer, London.
Jelly Cupboard, Tennessee, 1850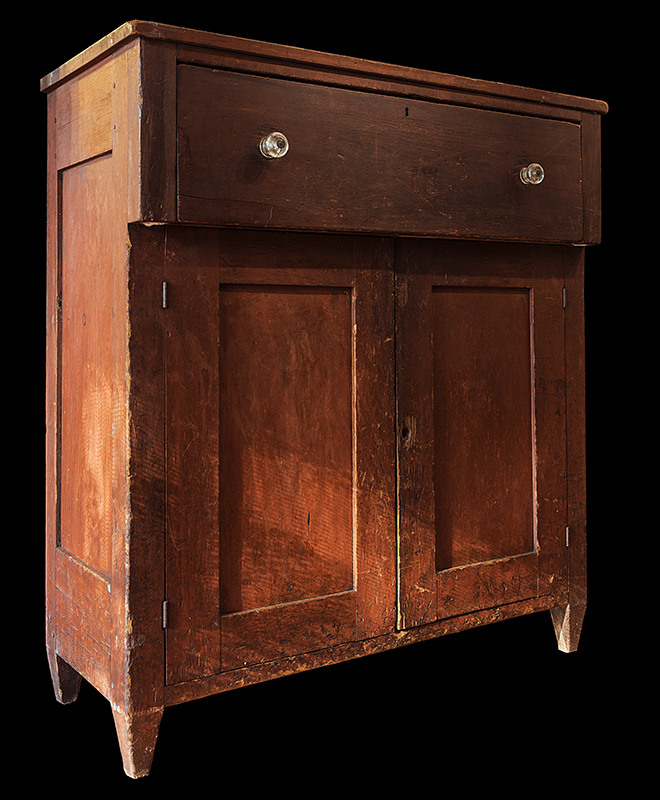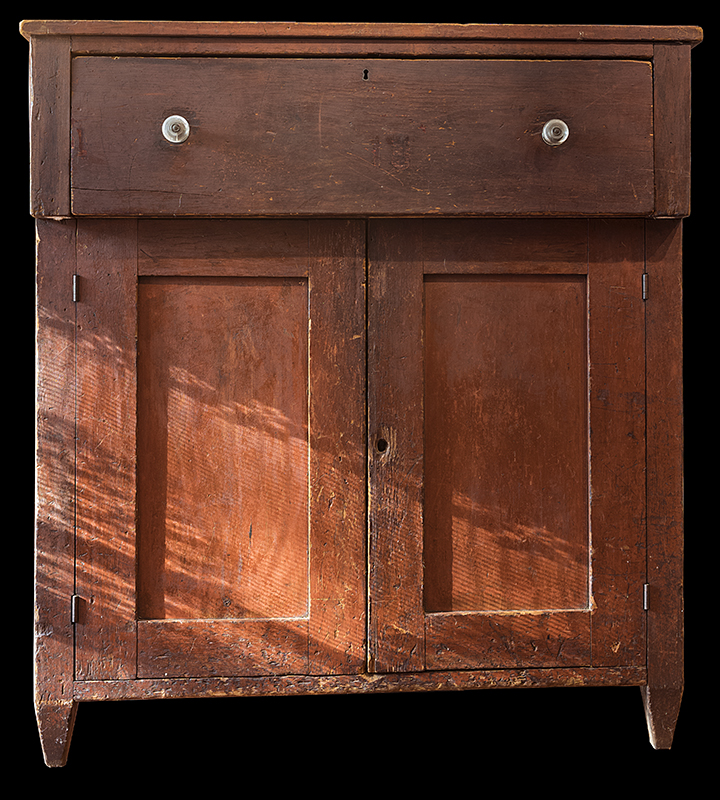 Retains most of its original red paint.
I purchased this cupboard from a family in Wilson County, TN. The original home was on land flooded by Percy Priest Dam. Their grandfather passed away, and the cupboard was in his barn. Motor oil had spilled onto the top. I was able to carefully remove most of it, along with the caked-on dirt. The rest of the piece is as found, with the original surface. The pressed glass knobs appear to be original.
Primitive furniture is not for everyone, and that is ok. This simple cupboard talks to me. It certainly belongs in the working and casual living area of our Tennessee home.
Blanket chest, England, 1620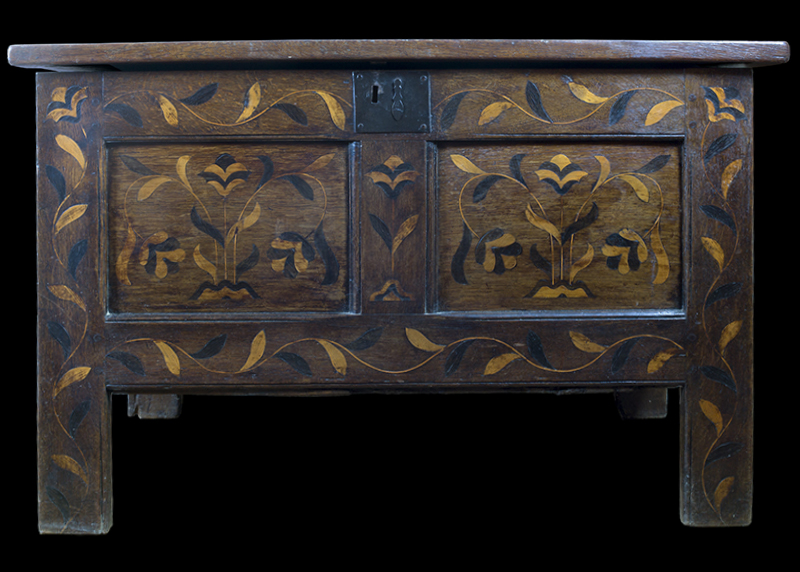 Purchased from Robert Brown and Richard Tanner. Oak with inlays of holly and bog oak.
Ladies writing desk, New York, 1850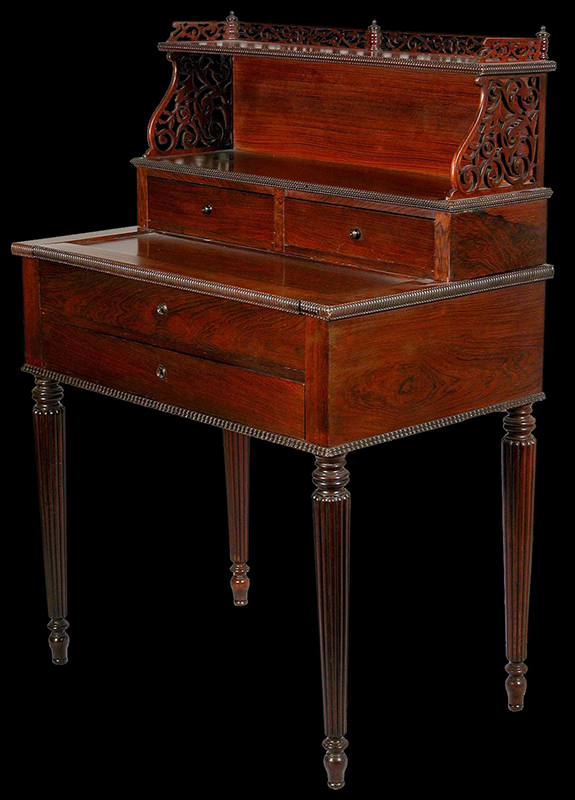 Purchased from Stanley Weiss. Rosewood primary.